Wedding Consultant
This is for the couple that wishes to have a Wedding Consultant assist with the planning of the many details for their wedding day. The goal is to provide the Bride, Groom and their families with a stress free planning stage and a Perfect Wedding Day!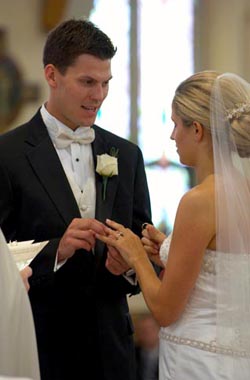 Includes all elements of the Wedding Day Director
Recommending, coordinating, and negotiating for wedding related services – ceremony site, reception site, musicians, photographer, videographer, transportation, florists, caterers, decorations, etc… To include participation, if desired, in meetings and planning with all vendors.
Devise a computerized guest list to assist with table placement, guest invitations, gift tracking
Create a personal wedding checklist, so that nothing gets overwhelming or forgotten
Devise and track a personal wedding budget, includes planning and monitoring budget
Negotiate group room blocks for you and your guests at conveniently located hotels
Assist with menu selection and catering negotiations
Creation of floor plan and seating chart
Assistance with transportation arrangements for you and your guests
Assistance with selection and wording of invitations, programs, menus, etc
Miscellaneous tasks – to include assembling of invitations, assistance with favors, day after errands
Coordination and assistance with Rehearsal dinner event and/or wedding showers
Unlimited recommendations or suggestions (i.e. creative ideas, budgeting, etiquette, decor, etc…) Attending to all miscellaneous needs to ensure wonderful memories from the engagement to the Big Day!
***Every wedding or event is unique in personality and budget, therefore our package prices are based on an individual basis, depending upon many factors