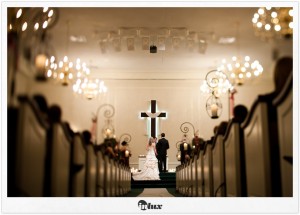 The first wedding of the season, and what a wedding!  I had the pleasure of helping to coordinate the wedding for Renee and Chad this past weekend.  What a beautiful, loving, committed couple and a joyful family. 
The wedding ceremony happened at the stunning Hartville Mennonite Church and the reception was at Greystone Hall in Akron.  Greystone has recently been taken over by the John S. Knight Center in Akron and the staff there did a fantastic job.  The minister for the wedding was a family friend of the couple and ironically was the brother of a good friend of mine – what a thoughtful and heartwarming ceremony!
This wedding was special for me from day one, as Renee is the sister of one of my favorite wedding professionals, James Nisly.  James and his lovely wife, Genevieve, are phenomenal photographers in Northeast Ohio – Genevieve Nisly Photography.  There was a bit of pressure to make sure this wedding was executed perfectly, but not nearly as much pressure for me, as for the photographers associated with this one!  James and Genevieve wanted to enjoy the wedding day, so they trusted the photography to Tom Forrest and the Inlux Photo Team of Jarred and Heather.  It was like Paparazzi at times…to watch these 3 photographers work was exciting.  They caught every angle and were just all around wonderful people to share the day with.  What an energetic and exciting wedding to be a part of.  And the photo's….there was NO need for me to have a camera, so you will have to travel to see some amazing photo's of this wedding!  Enjoy Tom's Blog and Inlux's Blog….fantastic work!
Renee and Chad – thank you for trusting me with your day.  I hope that you enjoyed every second of it.  You truly were a beautiful Bride and Groom and I wish you nothing but happiness!