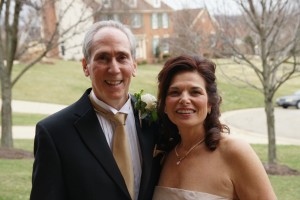 What a treat to help friends plan the day of their dreams!  A little Background:  I first met Bob years ago when he was my husband's boss.  Bob lived in New Jersey and would travel here frequently for work.  About 3 years ago, he moved to Canton, Ohio and although my husband had moved on to another company by then, we remained in touch.  Bob had a girlfriend, who also lived in New Jersey…Diana!  Diana is a bundle of energy and a wealth of knowledge.  We became fast friends!  Diana moved to Canton and the wedding planning began!
Bob and Diana wanted a small, intimate wedding for their IMMEDIATE Family only!  So that is exactly what they got!  The guestlist consisted of their children and dates, and a few very close family members – 15 people in all!  We planned an intimate wedding ceremony in their living room, followed by a wine tasting cocktail hour. 
The guests then moved into a completely transformed family room for a six course meal prepared by Chef Joe Pileggi.  On the menu was a shrimp Amuse, a ravioli Appetizer, Insalata Caprese, Intermezzo Sorbet, chicken and filet entree, and of course wedding cake! 
After dinner, the party continued with a casino night! 
Everyone had a wonderful time and most importantly, Bob and Diana radiated with happiness! 
Because Bob and Diana were friends of mine, I offered to do some things that I normally don't get my hands into – flower arrangement and photography!  I had a great time taking pictures for them…but I have a whole new respect for the photographers that I hire…that is pressure!  I think I captured some good shots though…here are a couple!