What a fun wedding Bobby and Angela threw for their family and friends!  I met this sweet couple almost a year ago and from day one, I knew that we would end up as friends!  Bobby and Angela have so much respect for one another and the love that they share is evident as soon as you meet them.  The wedding that we planned centered around family and tradition….and great food! 
The ceremony occured at St. Marons in Downtown Cleveland and the reception was held at Casa di Borally's.  I have to say, Bobby told me for months that the food was amazing…..and he was right.   The pasta tasted just like my Great Grandma Jennie's with the shredded Romano cheese….Mmmmm! 
Thank you to Bobby and Angela's families for making me "part of the family" for a night.  Bobby's mother kept saying, "now I know why Bobby and Angela love you so much…!"  I'm so happy the day was everything they hoped it to be!
I do not take pictures at my weddings but I was able to snag a few shots from relatives to post on the blog.  As soon as I have the professional photo's, I will post again!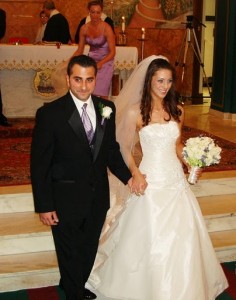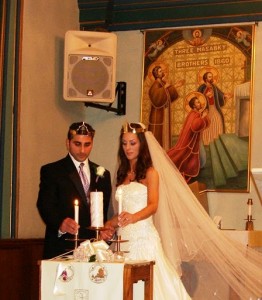 Bobby's Uncle owns Sweetheart USA and they made the cake!  It tasted great and it looked fantastic!