My Wedding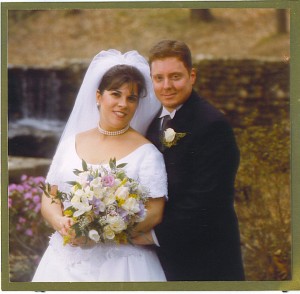 Today is my 8th Wedding Anniversary!  April 21, 2001!
At the time, I was planning events in Northeast Ohio, but not specifically weddings.  I loved weddings, as I already posted previously, so planning my own was a dream.  Of course, if I had to do it again, I would make a lot of changes – especially since I am a wedding coordinator now!  I don't necessarily think that I would change anything at the actual ceremony – I believed then and still do now, that the ceremony is the most important part of the day.  I loved my wedding ceremony:
– wonderful homily from my high school principal, Father Nuzzi
– unbelievable flowers – it was the Saturday after Easter so I had the advantage of having all of the Easter Flowers and we didn't spend a penny!  I highly encourage brides to pick that weekend each year!
– a choir – yes, I had the entire choir at my church, St. Joseph's in Canton, sing.  They were phenomenal!
The reception was nice, but I would change a lot if I did it again – number one thing I would add, Lighting!  What a difference lighting makes!
Anyway, Happy Anniversary Rich…thank you for encouraging me to pursue my passion and for supporting me in my dreams!